Posted on
7
Nov
2013
- by admin In:
Uncategorized
Спасибо/Thank You to all of our friends, family and fans in DC.
It was a whirlwind of music and mayhem in our nations capital. Thursday night found us at the residence of Irelands Ambassador to the US.
Madam Ambassador Anne Anderson is the first female ambassador from Ireland to the US. The McCoys have always trended Irish in all things liquor/music and we were not going to miss out on the opportunity to share some Jamesons with Anne.
So we shucked out of our chaps and spurs, tossed on a sport coat and headed out to mix and mingle with some like-minded irishmen and women. The prospect of having a few pints with Madam Ambassador had us fogetting about the cow and the punk that we were supposed to be preparing for on Friday and Saturday nights.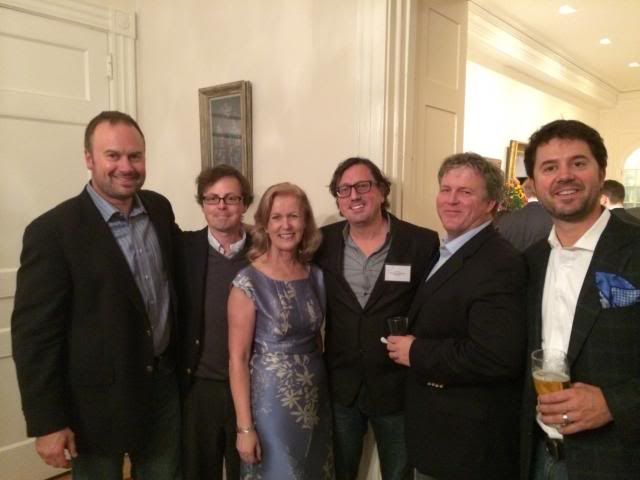 It was a splendid function. Anne was delightful, articulate, intelligent, & poised. Just practically perfect in every way. And the lilting brogue as she spoke just about made you want to renounce your citizenship.

Friday morning found us in our home away from home in DC – Pie Shop Studios behind Dangerously Delicious Pies on H Street.
Home of the Glenmont Popes and some of the best pie this side of the Mississippi. We whipped together a short 1.5 hour set for the evenings gig at the Gibson Guitar showroom – a pre-show after party [wtf is that?] to kick off the mainevent on Saturday at 9:30 club. The night was a private party with both Tito's Vodka and Flying Dog microbrews partnering w/ the Surreal McCoys and Billy Morrison to present an evening of rock.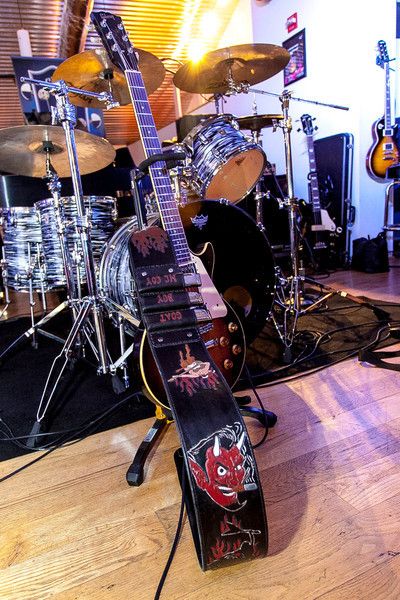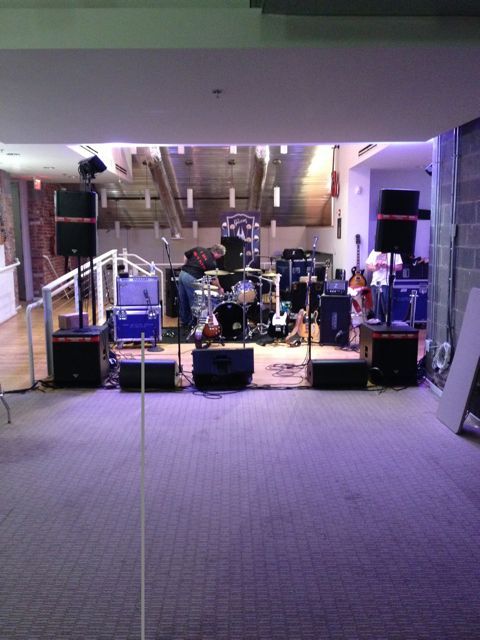 Only Gibson guitars are supposed to be played at the Gibson Showroom. So we modified Elvis' Nash…. nobody puts Baby in the corner.


Goat Boy having fun with some of the veterans that attended the gig. Great group of guys.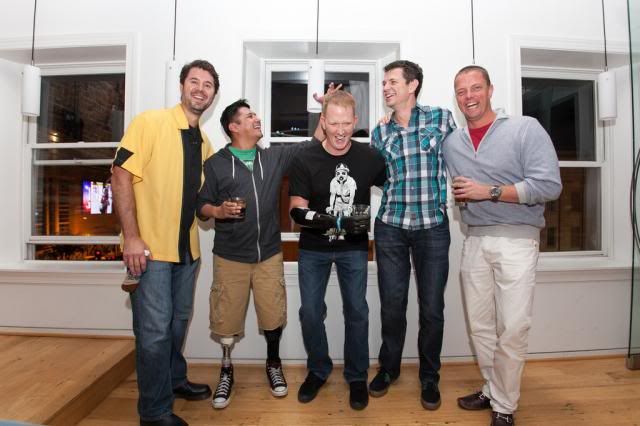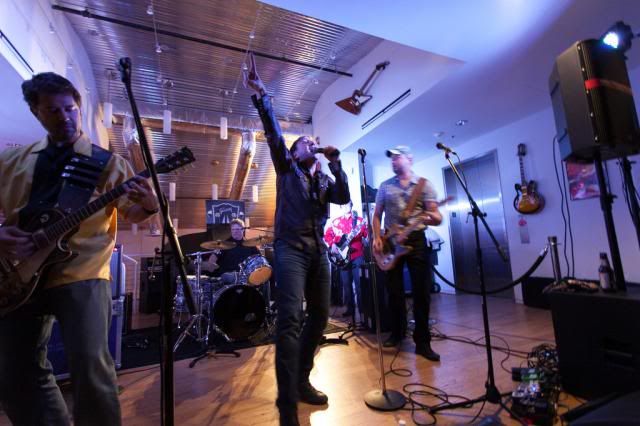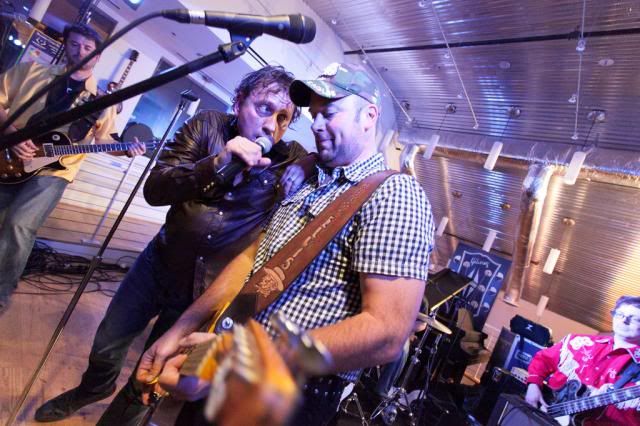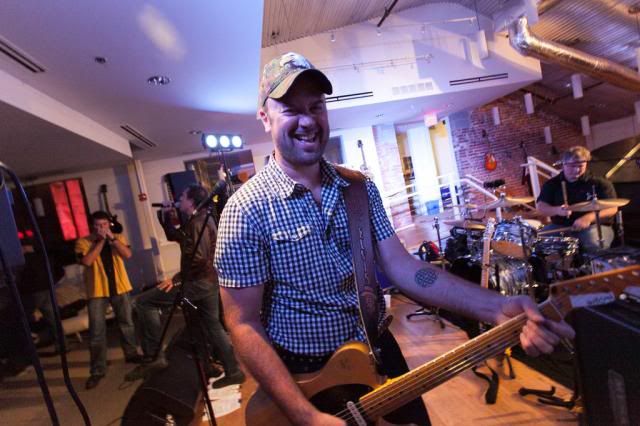 Chugging beers from a prosthetic leg?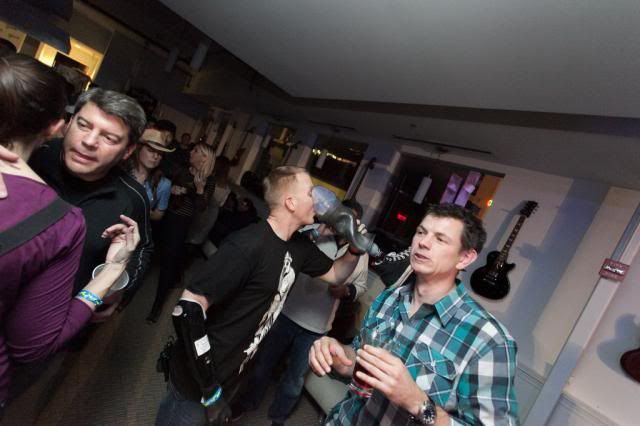 Goat Boy has to join in the toast….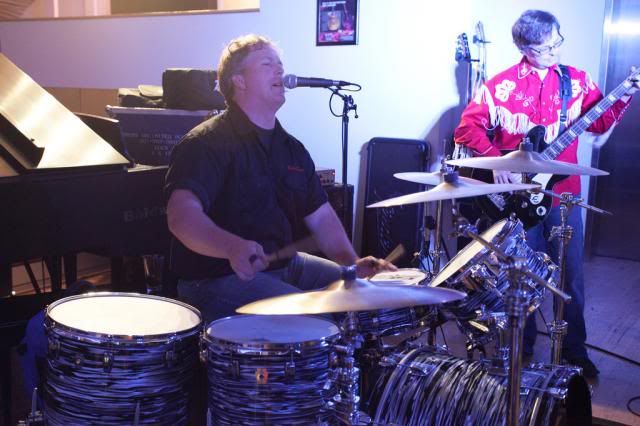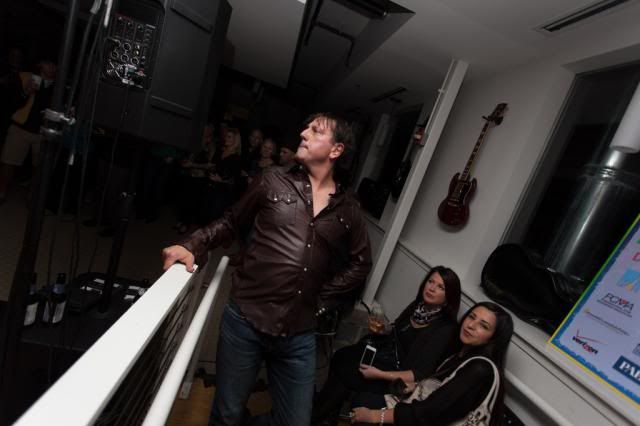 After we wrapped, our good friend Billy Morrison began to spin tunes for the guests.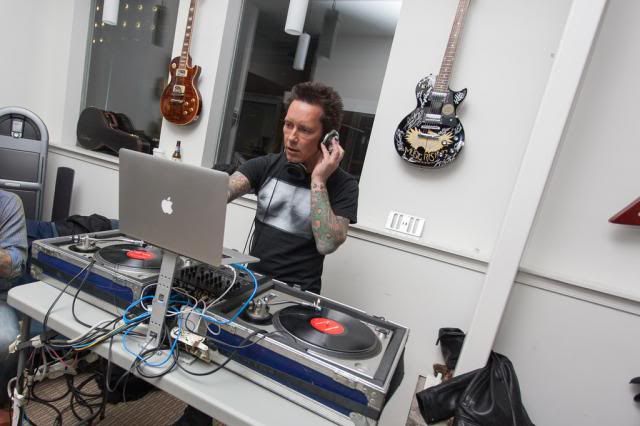 Once we finished up at the Gibson Showroom Friday, it was all downhill sledding from there right into the fabled 930 Club to open for Camp Freddy on Saturday. Bucket list material? Indeed…
The beauty of it was that the event we were playing was a fund raiser for the Boulder Creek Military and Veterans Wellness Retreat. We heard we helped raise $60K. Not bad for a night spent making both the Cow and the Punk.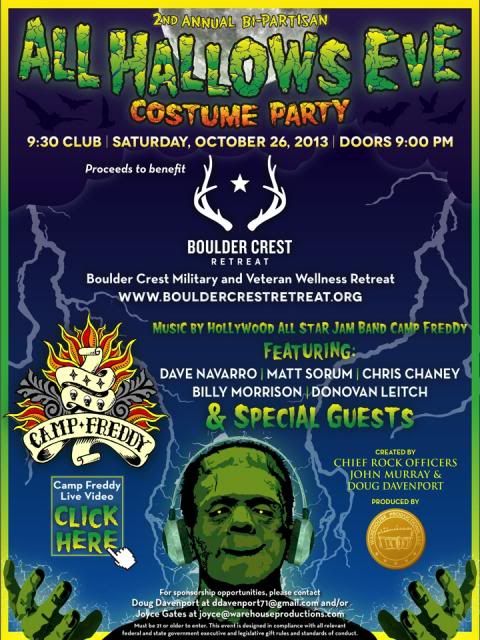 But, it was to be a Halloweens Party…. hmmmmm  what should we dress up as? A ghost? A goblin? Nah, let's go as a all-girl punk band from Russia. Let's go as Pussy Riot. The resemblance is striking, no?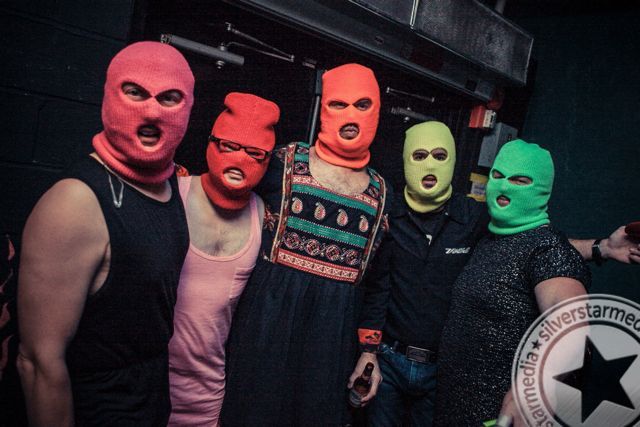 But before we hit the stage we had things to do. Like check out our dressing room – complete with shower, bar and this great guy who kept filling the fridge with beer. We almost couldn't get Elvis out to the stage.
Now, don't get us wrong here….  the stocked bar in our dressing room, the shower, the opening for huge rock stars, the dude [Jason] from 9:30 who filled our dressing room with Bud longnecks… that was all good. But the thing that had us most excited was the fabled 9:30 cupcakes. You see, legend has it that every rock group that comes through the hallowed doors of the 9:30 Club has a platter of the famous 9:30 Club cupcakes waiting for them in the dressing room. Devil's foodcake filled with vanilla buttercream, dipped in chocolate ganache with "9:30″ written in frosting across the top……  sweet, weeping, Jesus… we needed to get some of them. And they were there. 5 of them. On a platter. Welcoming us to the 9:30 Club and our dressing room. Calling to us….. It was all we could do to keep Wm. Saul from inhaling the entire platter. The last thing we heard as Jason dragged him from the dressing room was, "GOD OF THUNDER NEEDS GANACHE".
After devouring the cupcakes and washing them down with a few longnecks, we shimmied into our Pussy Riot outfits, donned our ski masks and waited for the nod from the 9:30 folks to hit the stage. And hit the stage we did.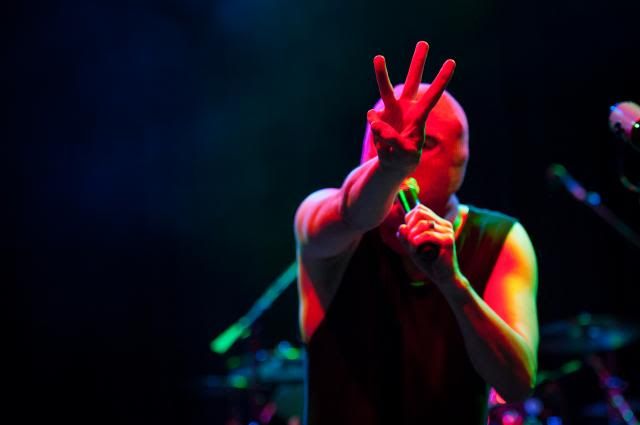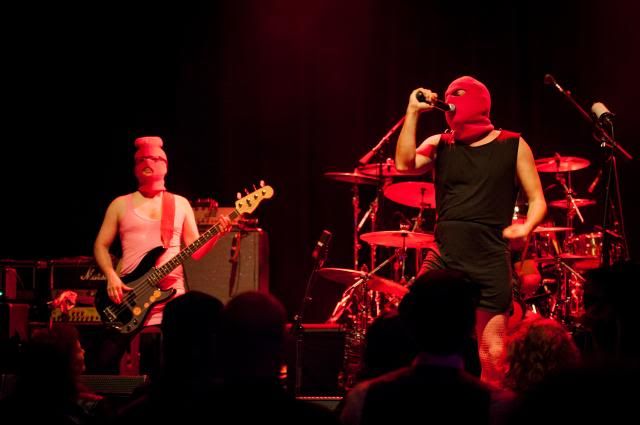 This dude was awesome. We think we sang about half of Take Me Home Country Roads w/ Cleetus.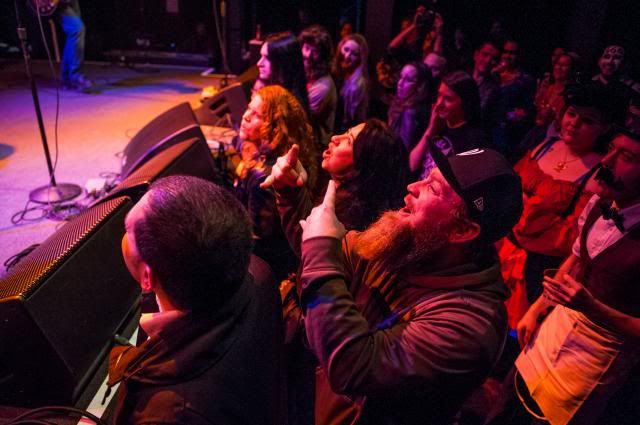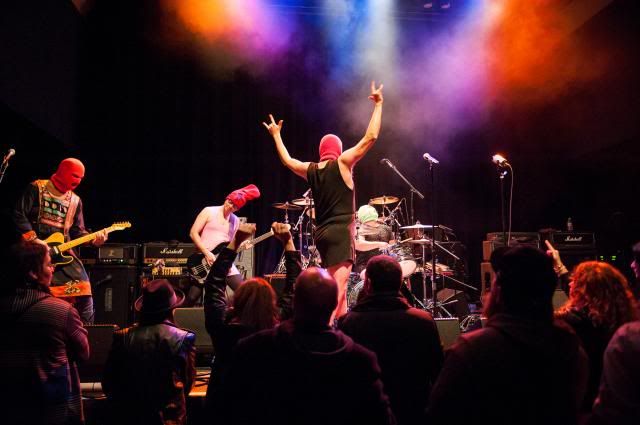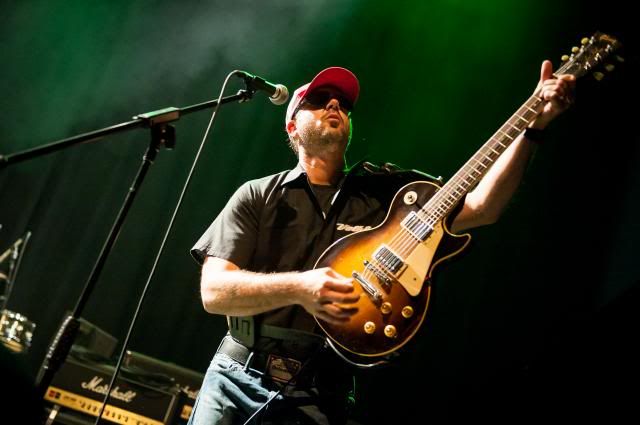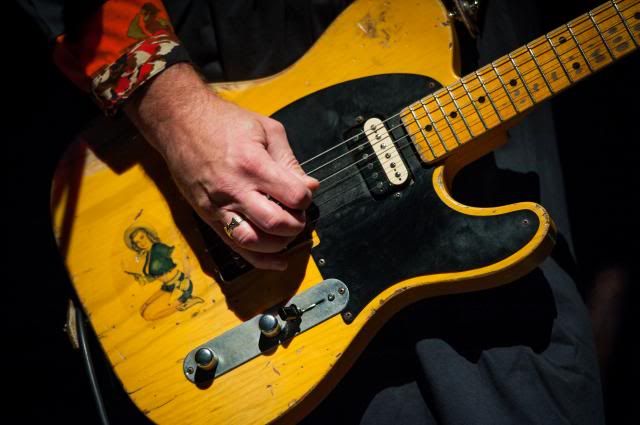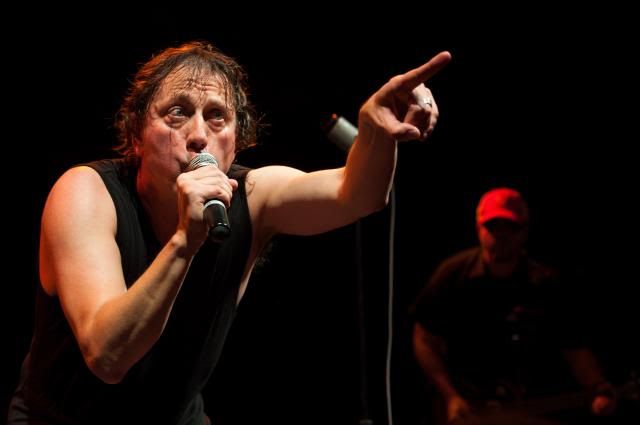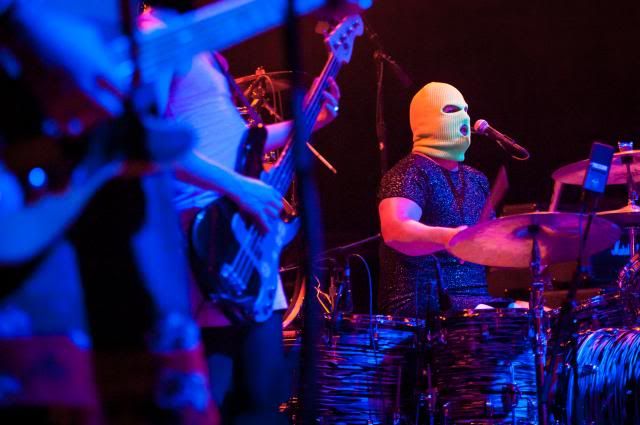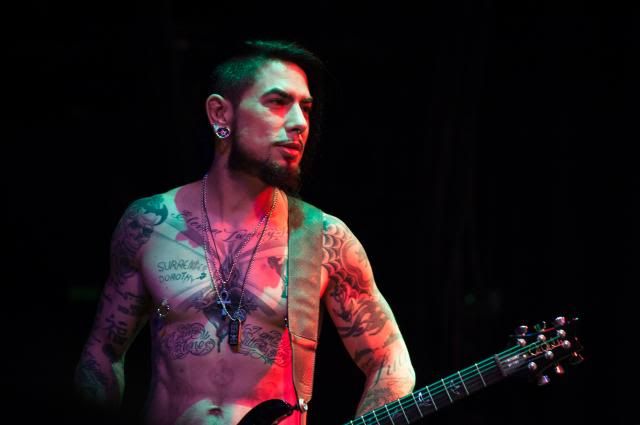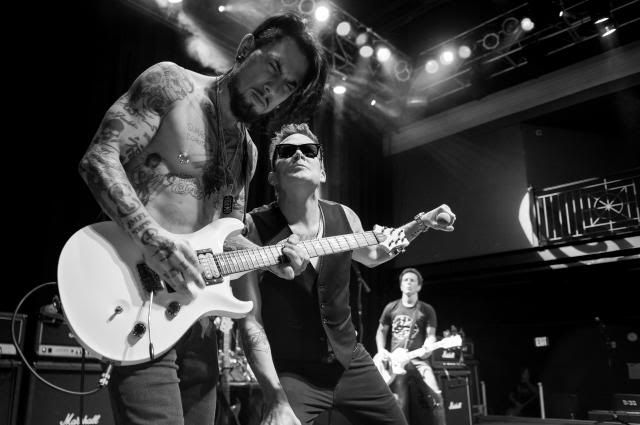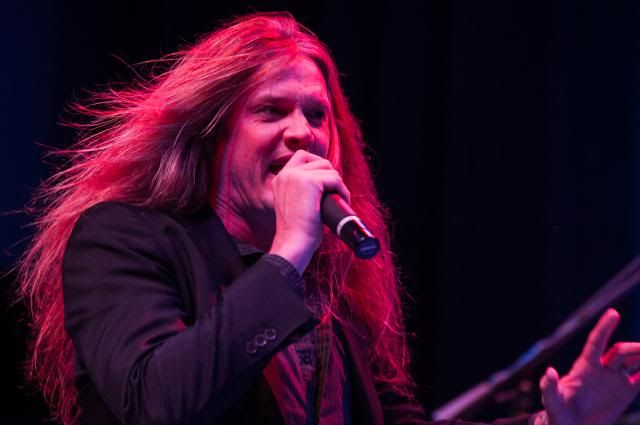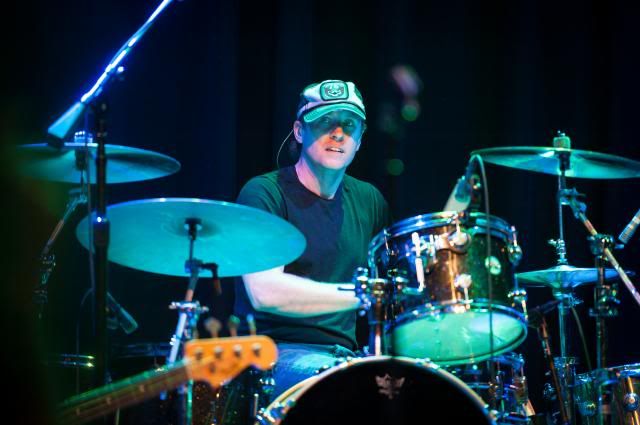 …and somewhere over DC Zakk Wylde is still soloing.
You can follow any responses to this entry through the RSS 2.0 feed. You can leave a response, or trackback from your own site.
Click BELOW for a FREE download of the title track off our latest album!!!